Almost all businesses operate with financial resources. Without them, your business will not thrive or even stay afloat in the competitive market. Now that you are looking for the right loan for business funding, it is very important to know what would work best for you and your business. The need for funding is crucial to keep it moving with an additional cash flow especially if it is just a start – up.
Of course, you don't want that to happen. You may get stuck of choosing between a personal loan and a business loan. While these two have some similarities, understanding how each function and how they differ from each other will give you a better knowledge of what's good for your business.
What is a Personal Loan?
Simply put, a personal loan is a type of loan that is given to an individual where the money is borrowed at a fixed rate and repaid in manageable installment terms. This is commonly used to make a big purchase, household repairs or to pay off credit card debt. A borrower will apply for a specific amount of money which is about $1000 – $4000 on average and 100,000 at maximum.
When approved, the amount will be received in lump sum where the borrower is obliged to pay back the amount plus the interest associated with it. Most small businesses use personal loans to fund or expand their business.
ADVANTAGES
For a business loan, banks would be keen to see your detailed business plans, financial projections, and assurance that your comp any is able to make repayments. On the other side, you can get approved for a personal loan in a matter of hours. Your application can be influenced by your credit score, financial situation, proof of income, and tax returns.
Lenders tend to give higher interest rates on business loans most likely for unsecured loans. This may cost you more and if you opt for a secured loan, you need collateral. However, if your business goes unstable (considering it's new) and you cannot make repayment, the lender will take possession of your assets. Personal loans are often unsecured and offer lower costs.
You can use your personal loans for many purposes. You are flexible to use it for your medical bills, travel expenses, home renovations, car repair, or to make a purchase of anything you desire.
DISADVANTAGES
If you have a good credit rating, you can benefit from a lower rate. But if you have a poor payment history, banks interpret it as a high credit risk and chances are they will give you high – interest rates. Creditworthiness is very crucial when it comes to loan applications as your fate of being approved depends on it.
In contrast to credit cards where you can take time to make payments, you are required to pay in the specific time for the personal loan. If you miss paying on the due date, the lender has the right to sue you for nonpayment (unsecured) or take possession of the collateral (secured).
Compared to business loans where you can borrow millions, the amount of money you can borrow from a personal loan depends on the limitations set by the credit union, lender, or banks. Therefore, if the amount is not sufficient to cover up your expenses, you might consider applying for multiple personal loans from different lenders.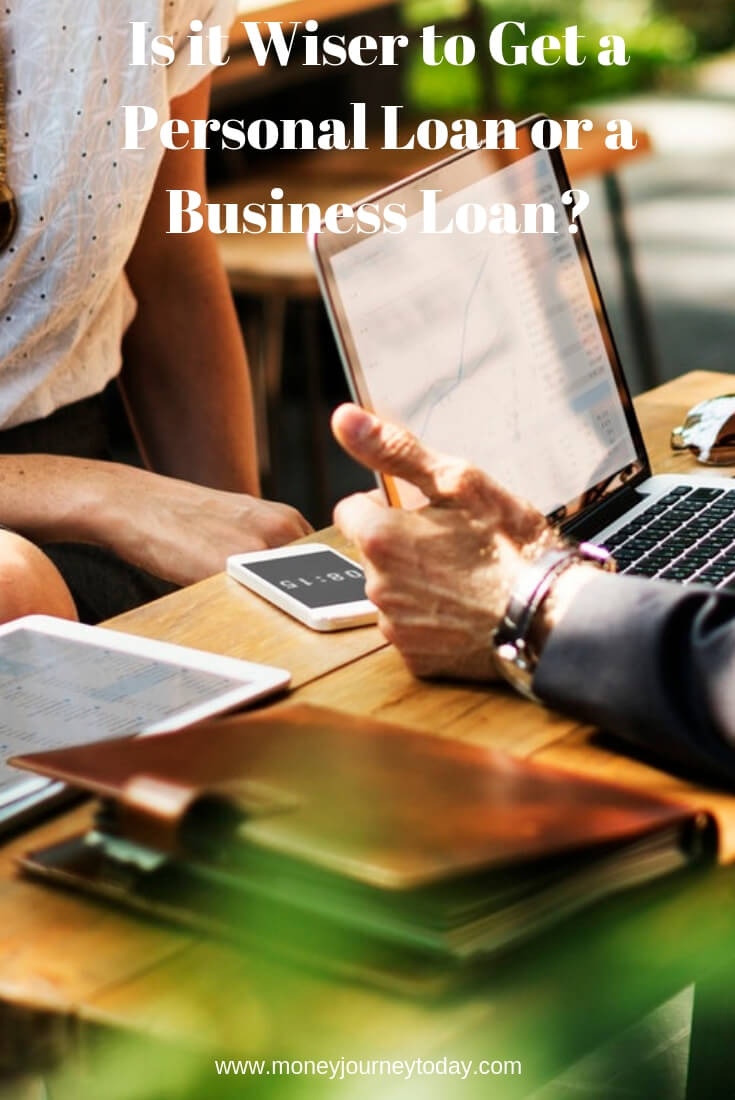 What is a Business Loan?
When companies can't meet their financial needs to support their workforce, business operations, and expenses, they usually apply for a business loan. The capital given by lenders like A1Credit can be used by business to fund their inventory, office supplies, and other projects while small businesses utilize it to pay for salaries and wages for their employees. With a business loan, you are required to repay your debt according to the agreed terms and conditions set by both parties.
ADVANTAGES
The amount of capital you can borrow from a business loan is usually higher than personal loan offers. You can eventually borrow more funding if your income statement and collateral is impressive enough to build trust with the lender.
With business loans, filing your taxes becomes easier because the penalties, fees, and interests acquired from the money you borrowed for business operations are deducted from it. It is also advisable to separate your business finances from personal finances to keep track of the money you are spending.
DISADVANTAGES
Difficult for Start – ups
If you are just starting your business, you'll be having a hard time to obtain a business loan. Banks and financial institutions would be interested to see the revenue your business generates and if the company has the capacity to make repayments. For newly – launched businesses, this can be a painful struggle.
Personal loans can be released in hours or within the day while business loans take months to get approved. As a business owner, you need to provide all the necessary requirements such as a copy of your business plan, financial statement and projections, company overview, and even the profile of your management team. In most cases, to qualify for a business loan, your company must be incorporated
A personal loan is a better choice when…
You have an excellent credit score
As said earlier, interest rates are associated with your credit score. The higher your credit score, the lower the interest and vice versa. While personal loans don't require collateral, take into consideration that you will be risking your personal credit score. If you can repay on time, this would not be a problem.
New businesses have not enough revenue history to show to lenders. Even you pursue to apply for a business loan and get approved, you will be paying higher interest rates. They will also ask for collateral which may put your assets at risk, while a personal loan doesn't require one.
Final Thoughts
Both personal and business loans are helpful for your business. As a business owner, your loan application will likely be influenced by your needs and the time you need to cover them. Before you make a move, take time to evaluate your financial situation and the growth opportunities of your business.